Electronic Bic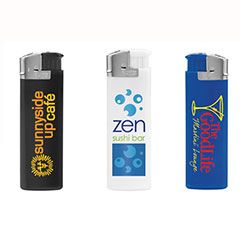 Lighters with Child Guard-Custom Bic Lighters
Flick Your Bic! 3,000 Lights Per Lighter! Imprint up to 4 colors, 2 sides.Patented BIC Child Guard system

Quantity: Minimum 200 pieces per color

Lighter Colors:
Choose a lighter color from the selection shown
Black, Blue, or White

Imprint colors: (New colors for 2013)



White, Black, Red, Maroon, Burgundy, Magenta, Pink, Cream, Orange, Lemon, Athletic Gold, Teal, Dark Teal,
Green, Forest Green, Process Blue, Royal Blue, Reflex Blue, Navy Blue, Purple, Brown, Charcoal Gray, Metallic Gold,
Metallic Copper, Metallic silver, Metallic Green, Metallic Blue, Metallic Magenta. Metallic colors print flat.


| | | | | | | |
| --- | --- | --- | --- | --- | --- | --- |
| Quantity | 200 | 400 | 600 | 1,000 | 2,400 | 4,800 |
| Our low Price | 2.30 | 2.20 | 2.15 | 2.10 | 2.05 | Call |
| Additional color/side | .12 | .12 | .12 | .12 | .12 | .12 |

We will meet or beat any confirmed pricing.
Imprint: Price includes a 1 color imprint, 1 side. Second side includes peel off warning label.
Add $.12 per lighter for each additional color in single location.


Custom imprint color match (if desired): $30.00 per color.
Imprint: Area: 3/4" x 2"- Specify vertical or horizontal imprint position.
Lighters will be imprinted horizontally unless otherwise specified
Lighter Size: 1" x 3 1/8"
Production Time: 5-7 working days from approval, plus shipping time.
FREE Next Day Production Service available at no charge! (1color/1side imprint only)
Packaging: Standard - 10 lbs. (approx.) @ 200 per carton packed in 50-count trays/boxes.
Shipping: All lighter shipments are subject to hazardous materials surcharge by the carrier.
Lighters shipping standard ground (US and CAN)are 27.50 hazardous material charge per box of 200.
Lighters shipping Air (US, AK, HI, PR) are 37.50 hazardous material charge per box of 200.
Lighters shipping Air CAN are 47.50 hazardous material charge per box of 200.
Due to subtle differences in computer monitors, actual product colors may vary from what is represented on screen.
*Please add .08 each for lighter being shipped to CA, TN, WI and MD.
*Please add .01 for each additional color or imprint on lighters being shipped to CA,TN, WI and MD.
*FL state sales tax applies to orders shipping to Florida.
*Prices may vary, please contact us for complete pricing.



Click to see 1000's of additional items you can custom logo
Search 100's of thousands of products or just give us a call to meet all your custom promotional products needs. More custom imprinted products and custom printed advertising specialties available than ever before. Custom brand your logo, custom imprint promotional goods, put your custom imprinted logo on anything you can think of at www.rockstarpromos.com.
Call 954-767-8385 or us email us at service@rockstarpromos.com
Rock Star offers our apples to apples price match guarantee on all our custom printed goods. We'll meet or beat any confirmed advertised price and provide you personal service on any identical quality, printed products backed by our 100% guarantee.
Custom Imprinted Lighters-Promotional Lighters-Personalized Lighters-Custom Logo Lighters-Print Lighters-Printed Lighters
Lowest Price Printed Lighters-Best Price Custom Lighters-Custom Printed Bottle Opener Lighters-
Most Affordable Custom Lighters-Mini Bic Lighters-Slim Bic Lighters


Electronic Bic Lighters-Custom Printed Bic Lighters-Logo Bic Lighters Cheap Bic Lighters-Branded Bic Lighters-Company
Logo Print on Bic Lighters-Logo lighters-Branded Lighters-Printed Lighters-Custom Zippo Lighters